they're out to get me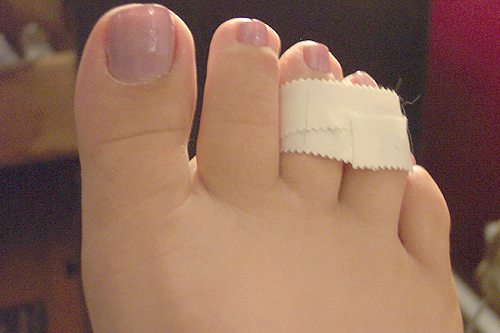 i have another broken toe. i was reluctant to post anything about it because of the pure irony involved in the injury. in fact, i told one co-worker today how it happened and the look on her face was priceless. she could barely contain herself from fits of giggles.
it's shoes. they're starting to turn against me.
the day started off innocently enough at DSW, where i found this totally cute pair of kenneth cole reactions. i can so rarely fit my wide-ass feet into anything at DSW that i got all a-twitter when these slid right on. (granted, i look forward to them stretching out a little.)
anyway, i escaped DSW with only some minor damage to my checkbook. (they were on sale for about $35.) the footwear, at this point, has not yet begun to set its wrath upon me.
i then went on to the mall do to some mystery-shopping, and on my way to the assigned location i passed by a payless shoe store. i am incapable of simply passing by a payless shoe store... i must go in. the lure has been particularly strong since they've started carrying a nice representation of wide width styles. so, powerless to resist, i found myself being drawn into the store to see what they have to offer me and my wide-ass feet.
for starters, i spotted these cute brown ankle boots for a mere $24.99. i immediately whipped them off the shelf and balanced myself precariously on one foot while i slipped a boot on the other foot. whoooops... i start to lose my balance.... trying to catch myself, regaining control, i bring the boot-trying foot down kind of hard on the ground, without the benefit of the boot being all the way on my foot. i take an awkward, hard step and i hear something pop. i feel no pain, though... just a small "pop!" (i'm reluctant to even add that exclamation point.)
so i proceed with the boot-trying on, full steam ahead. the brown boots fit great, and i look around for other things to try.
and here's where i become confused. maybe my body is already starting to heal my newly-broken toe by sending out endorphins or whatever, and maybe i'm not thinking very clearly. i'm not really sure what happening in my brain. because next thing i knew, i was trying these on. what's more, i didn't think twice about buying them.
i mean, really! when am i ever going to wear silver knee-high stiletto boots? they are totally impractical. however, i believe them to be pretty friggin' hot. (ray thought so, too.) plus, they sort of make me feel like a superhero.
they were also $24.99, by the way. which certainly makes the irrational decision to buy them a bit easier to live with.
so after the double-boot payless purchase, i completed my mystery shopping, walked the entire length of the mall, drove home, went out to dinner and not once did i feel any pain in my toe. but this morning i woke up and it was swollen, slightly bruised (purple!) and pretty darn owie. flip-flops have been the footwear of the day, which is just one of the ironic elements in this whole sordid story.