hobo poetry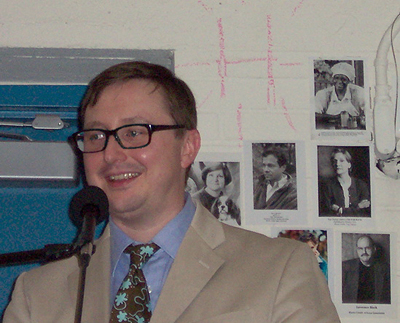 i had been looking forward to john hodgman's reading at the regulator for weeks. maybe even months. i adore him.
a lot.
too much, perhaps.
so it's probably best i just leave it at that, and say that the event did not disappoint.
here's a 24 MB video of him reading some hobo poetry ostensibly written by 'mindbender steve', a hobo whose poems always, always rhymed. (to the point of painfulness.)
and here is the poem in non-video form, which is found in the pulitzer-prize-winning book "the areas of my expertise"... follow along as you watch the video. (and yes, that is a bagpipe accompaniment you hear in the background. it was a weird night.)
A hobo always goes and goes
He does not stop to change his clothes
He rides the rails that he has chose.
Water pours out from a hose!
Do not show me tramp or bum
Tramp may ride, and bum's a chum
But both beg from the other one.
Kids: stop chewing chewing gum!
Neither works like hobo does
Carving coin and twisting fuzz
Into a pretty pair of gloves.
The past tense of "to be" is "was"!
A hobo he will never steal
Unless it is to get a meal
Or cash, or gems, or fur of seal.
Some Japanese eat broiled eel!
But saddest: those who do not ride
At all, but stand and die inside
As world spins on and throws aside
The past, and hope, and faith, and pride.
In one direction do trains glide
Not looking back, on windward side,
Across the continent's divide
The hobo rides and rides and rides.
I will eat anything that's fried!