juggler 2000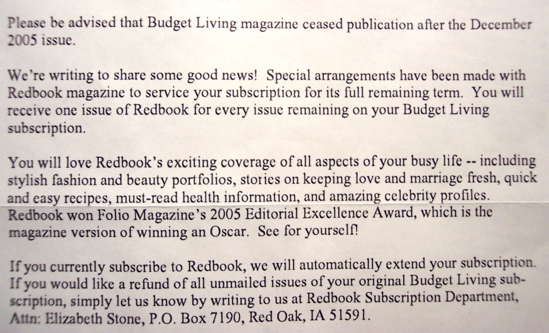 i got this letter in the mail last week, along with two issues of redbook.
my jaw dropped, actually, upon realizing that someone thinks i am in the redbook demographic. i mean, really... i'm still in my thirties, people!!! is it even possible that budget living subscribers also enjoy redbook? before receiving this letter i certainly would have never thought so. frankly, i couldn't believe i was holding redbook in my hands.
after the shock wore off i realized i was being judgmental, so i sat down to peruse the contents of redbook. maybe i was wrong. maybe the magazine had changed. maybe this wasn't my mother's redbook.
so, ok. deep breath. plunge in.
hmm. i don't know if my mother's redbook ever gave tips about this kind of thing. maybe not this type of advice, either.
reading further, it's clear that redbook is targeted to women my age, but not to me. redbook readers are married with children. redbook readers are stay at home moms.
even the advertisements make me feel like i'm spying into another world. a very foreign, very scary kind of world.
still, after only a few pages i'm developing an odd fascination with this magazine. it's a bit more modern than i expected, design-wise... cute sans serif fonts and punchy colors. it's trying to feel young, while simultaneously dishing out dated advice.
i then spot the beefcake. add to that the tame fashion spreads, some horoscopes and a section on readers' embarrassing moments and i begin to think that maybe redbook is really just "cosmo lite".
this is really not what i expected. i expected cooking tips and lists of things to do with doilies.
perhaps what surprised me most was the "red hot summer read" -- similar in concept to bust's "one handed read", but quite a bit more florid. what's more the whole section (3-4 pages) is printed on different stock than the rest of the magazine. these "special" pages are not on glossy paper. they're printed on something rougher... almost a card stock. why, i wonder? maybe to aid the reader in finding the sex more quickly?
after paging through both issues and trying to remain open-minded, i come to the conclusion that redbook is really not for me. there were a couple of product reviews and recipes that seem helpful, but it's certainly not a substitute for budget living (which, admittedly, wasn't perfect, but was MUCH closer to "me" than redbook). still, i don't think i'll write for a refund as the letter suggested. i found it kind of interesting to peek over the fence and spy on the lives of women my age who have chosen an entirely different path for their lives.