the boulevards of cypress trees, the masquerade of birds and bees
saturday night ray and i heard the north carolina symphony perform mahler's "resurrection" symphony. it is my favorite piece of music, and i haven't seen it performed live since 1998. (and that was with the chicago symphony orchestra and chorus, conducted by zubin mehta. man, i loved those student rush tickets when i was in college!)
last night's performance was great. it's an immense symphony, featuring a huge chorus. the orchestra is huge, too, with most of the winds being doubled in numbers. it's a fun symphony to watch... there is a lot of activity as brass and percussion leave at various times to perform off-stage.
the music is fantastic and bombastic. it's tender, too, and the finale is so moving that i burst into tears. i was sobbing, shoulders shaking, for the last 5 minutes of the work.
i love having deeply-felt musical experiences like that. i also consistenly cry when i hear saint-saens "organ" symphony. in fact, i've cried while playing it at work, and have had to go on-air with a quivering voice, trying hard to sound professional.
anyway, the music was magical last night. and as ray and i were driving home, what do we see in the traffic circle? something equally beautiful. i wish i could have gotten a good nighttime photo... it was hauntingly lovely in the dark. these photos were taken first thing this morning: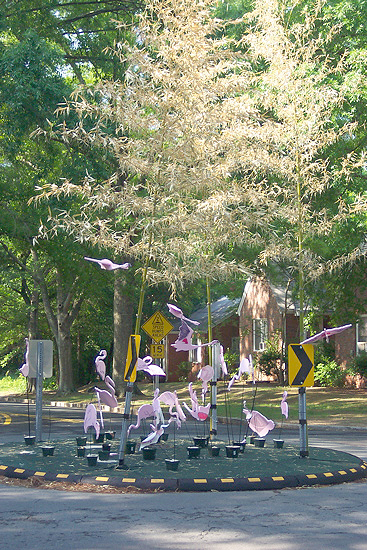 i love that there are so many birds!
for the longest time i couldn't figure out what they were made of. until i saw this one.
ray thought this one was a dodo.
some of the birds contained special messages!
there were also several birds overhead that moved beautifully with the breeze. (150k .mov)
all of this --the music, the birds-- was lovely enough to make me forget my worries over the pool for a while.
Posted by xta at May 14, 2006 04:28 PM | TrackBack