pool pool d'oh
though it's not quite pool weather yet, i would like to have things up and running by the time my mom comes for a weeklong visit on the 23rd. given that it takes a while to get the water chemistry correct, we figured this weekend would be a good time to start setting things up.
here we've laid out the tarp and pool, making sure no mildew has grown on anything over the winter: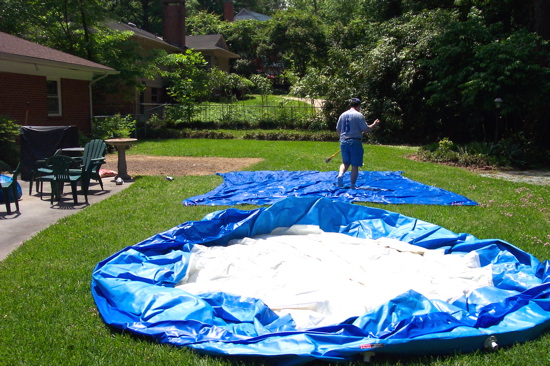 and here is ray after discovering two HUGE tears in the pool:

this was heartbreaking. we are attempting to patch the holes, being very careful to follow the directions to a tee. we're applying patches on both the inside and outside of the pool, covering all our bases.
i have no idea whether this will be successful or not, but i'm sure the rain that's pouring from the sky right now isn't helping the glue set up. (though the instructions say that this kit can be used to patch underwater leaks, so what the hell do i know...)
argh is all i can say at this point.
Posted by xta at May 14, 2006 03:52 PM | TrackBack