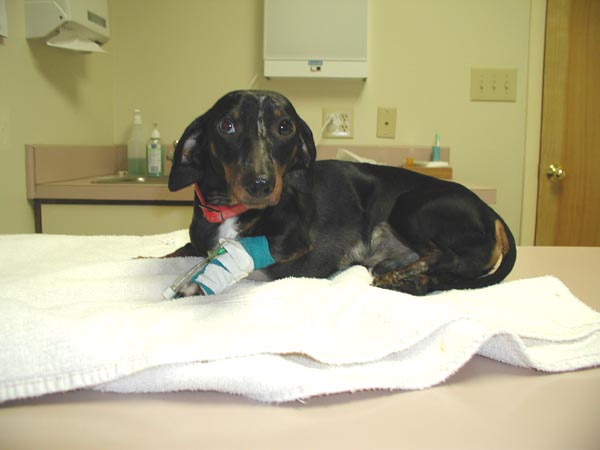 An update:
April 22, 2005:

An Update from Carol:

Corn Dog is doing wonderfully. You can't tell he had any hip/leg problems. He jumps up and down like a jumping bean. Now he sleeps with Java in the bed and under the sheets. I believe his kennel is a thing of the past. I kept it out and he chose to sleep in it for a month or so. Then one night, he followed Java to the bedroom and it has been the bed since that one cold night. They usually are both curled up with their butts touching in the middle of the bed. Kasey-kitty now likes his kennel, so it's in the office and she rules!

He loves to bark at the deer and play, play, play (24/7). He now likes the long walks and he even gets his feet wet when it rains. He still eats like a Hoover, but he has more patience - like he understands that he does NOT have to fend for himself. He will get food and treats just like everyone else.

He is still a joy and I love him more every day. He is famous!! I need to take him back over to rehab so everyone can see him (and his sisters). Thanks for asking - all is well with Cornie and his new family. ;-)

Oh - one last thing, he now comes when you call him, so I think he finally accepts his name (that's good).

Take care!!

Carol
Final Dog Blog Entry:
Tuesdsay, December 7:

Corn Dog Moves to Moncure

Well, it happened. I have put off writing about it because it makes me a little sad. One afternoon in late October, I went to pick Corn Dog up from rehab. When he came out of the back room, another rescuer looked at Corny and said, "Hey, I know you from the internet!" So I chatted with her about her dog and she said that she knew someone who really wanted to adopt Corn Dog. That afternoon, I got an email from Carol, who wanted to come meet Corn Dog at rehab and possibly see about adopting him. We set it up the next day. It was love at first sight for Carol and Corn Dog!

Corn Dog and I went out to Moncure to meet Carol's other dogs. She has another miniature dachshund and a yorkie and two cats. Corn Dog loved it. There was a big fenced in backyard and a HUGE BASKET full of toys. He got one toy out at a time and spread them out all over the den. It was very cute. I am sure that he was excited about the chance to have walks to the lake and boatrides, too!!!! Corny seemed to get along fine with the cats and the dogs. It was the perfect match. Carol and I decided to wait until after his final vet school appointment for the adoption. That way I could have a little bit more time with Corny before I had to say goodbye.

Corn Dog had his final appointment at the vet school on Monday, October 25. They had to sedate him so they could get some x-rays and tests done. Carol and I met up there in the afternoon after he woke up. The doctors gave him a glowing report. He was definitely using the leg more and his range of motion had increased and he was not going to have to have any more surgery.

In an effort to minimize my sadness, I decided to let Corn Dog go home with Carol after the vet school appointment. Carol was very happy. Corn Dog was still recovering from the sedation, so he was kinda out of it. I cried for a couple days and emailed Carol every day to see how he was doing. She said that he was doing just fine. Everyone is happy.

I miss him every now and then. But I know that Corn Dog is very happy.

Here's a message from Carol that I received shortly after he went to go live with her:

Hey Charlotte,

Corndog is doing great!!! I tried all weekend to get some good pictures, but every time I reached for the camera, they would stop doing what I was trying to capture. So far, I only have some good pictures of Java and Cornie. I tried to get one of Sunny (the cat) and Corndog, but they stopped every time I aimed. Chesney would also disappear every chance I had to get a picture.

I'm not giving up on getting everyone in a picture, but for now, I'm sending a few good ones of Corndog and Java. As you will be able to tell, he is at home. Java and Corndog compete for the chews, but Cornie has learned to give her little kisses and it softens her up even more. He gets more Chews with Honey!!! He loves to play with Sunny - that has not changed. After our walk to the lake on Sunday, Java chased him around the yard. He is much faster than Java, but I told Java she gave him a run for his money.

On Sunday, I was washing my vehicles, so I would let them out of the house to run around for a while. Then I would put them back in the fence to see how long it took Corndog to run back into the house and wait for me to let them out again. He caught on quickly, so we kept playing that game to help him get used to the doggie doors. You are right about one thing, he does not like to get his feet wet! We are all still working on making him a country boy, but it's hard to break him of the city life. ;-)

He is doing great and he is a joy!!! Enjoy the pictures and I promise there will be more to come.
Another update:
Friday, October 1:

Charlotte will be bringing Corn Dog to this event! Stop by and say "hi!"

FOR IMMEDIATE RELEASE

Contact: Stacy Smith
Sept. 10, 2004
336-339-4975
Eustacia@triad.rr.com

Dachshunds to Gather at Weaver Street Market Oct. 3

CARRBORO, N.C. - Wiener Dog Day, a gathering of Dachshunds and Dachshund enthusiasts, will be held on the lawn at Weaver Street Market on Sunday, Oct. 3, from 2:30 p.m. to 4:30 p.m.

The gathering is expected to draw more than 50 of the tube-shaped canines in both standard and miniature sizes. Dachshunds are one of the most recognizable breeds of dog, as well as one of the most popular, according to the American Kennel Club.

Weiner Dog Day will feature obstacle courses, games and contests. Prizes will be awarded in several categories, such as "Oldest Dachshund," "Longest Dachshund" and "Dachshund Who Traveled the Greatest Distance to Attend." A costume contest also will be held.

Sponsored by Phydeaux Pet Shop in Carrboro, the family-friendly event is free and open to the public. Donations will benefit the Almost Home Dachshund Rescue Society.

"This is our third annual Wiener Dog Day," said Stacy Smith, event organizer. "Some people are so eager to attend the gathering with their dogs that they are driving in from outside the Triangle."

Participants are asked to park in the old Farmer's Market lot off of Robeson Street, across the street from Weaver Street Market.

###
Another update:
Wednesday, September 15

Sorry it's been so long since our last update. We're still looking for a good home for Cornwallis. If you are interested, please email Charlotte.

He's been going to physical therapy 3 times a week, and though his progress has been slow, there has been progress. He still doesn't really like to use his injured leg very much. It does at least touch the floor occasionally now.

More importantly, Corn Dog had his 4 week checkup at the vet school today. It wasn't all good. The vet says he has some "bone on bone contact" and his range of motion isn't what he'd like. The vet is encouraged by progress Cornwallis has made in the last week or so, but definitely wants to see him in another 4 weeks. The worst case scenario is more surgery. We're crossing our fingers that that doesn't have to happen.
Can you adopt Cornwallis?
Wednesday, August 25, 3pm

The time has come for me to find Cornwallis a new home. He is very sweet and I love him a lot, but I realized that I am unable to give him the attention that he needs. If you are willing to adopt him, please download this application (MS Word file) application and return it to me as soon as possible. You can send it to me by email or you can fax it to my work: 919-806-8874. But since this is my work fax number, I would rather you send it by email.

I know that MANY of you offered to take him and using an application like this was the best way I thought to be fair. Please forward this message to anyone you think might be interested.

Here is some information about Cornwallis that you need to know before considering adoption:

Cornwallis is recovering nicely from the surgery. He is still not putting much weight on his hurt leg, but he seems to be relatively pain-free.


Cornwallis has been great around other people. He barks at people who enter the house at first, but it is not an aggressive bark. His tails wags and he does not growl. Once he is introduced, he is very sweet and loving.


Cornwallis is very happy in his crate. He does not cry when he is left alone in his crate. He even prefers to sit in there when he is not required to. He has not peed or pooped in his crate since first bringing him home from the hospital.


He has however peed and pooped in the house. It is not very often, but just once or twice a week. So I cannot guarantee that he is 100% housebroken.


Cornwallis is great around my cat. They pretty much leave each other alone. I do not know how he feels about other dogs or small children.


Cornwallis also needs to do home exercises which include extending and moving his leg and walking on tough terrain three times a day.


Cornwallis goes to physical therapy three times a week at the Animal Rehabilitation & Wellness Hospital on Blue Ridge Road in Raleigh. I am not sure how long this will continue, but at least two more weeks. You will need to take him to these appointments. You can drop him off in the mornings and pick him up after work if you want. I can prepay for his physical therapy with the remaining donation money that I have received. I'd be glad to discuss the logistics of this with his new family.

Cornwallis will require:

some shots (will provide medical history to new parents)
teeth cleaning
ID tag with YOUR information
Dog carrier for car travel
Physical therapy at home
Physical therapy at Animal Rehab & Wellness Hospital in Raleigh
a 4-week post-operative visit with the NC Veterinary School
a 8-week post-operative visit with the NC Veterinary School

Cornwallis has the following:

Five month supply of heartworm medication administered on the 15th of each month
Five month supply of Frontline administered on the 15th of each month
Crate with cushioned crate pad
Leash, harness, and collar
Some food and treats
Food and water bowl
Sweater
Rabies shot and tag
Been neutered

I am not sure if I am forgetting anything. If you have any questions, please email me and I will try to answer your questions as quickly as I can, but please be patient. If you are unable to open word documents, please let me know and I will send the application to you in a different format.

I don't know when I'll be able to place him with a new home, but I hope that it can be worked out this weekend or sometime next week.

Thank you,
Charlotte
Photos of Corn Dog's water therapy:
Sunday, August 22, 2pm
Another update from Charlotte:
Monday, August 16, 6pm

corn dog made great progress with his physical therapy on friday. his physical therapist was even able to lift his front two legs so that he stood on *both* of his rear legs! his gimp leg has dropped some so that it touches the floor when he walks.

this weekend, we started frontline treatment for fleas and a heartworm medication. we also learned how to poop outside in the rain. corn dog is a little prima donna who does not like to get his feet wet. i think he would rather do anything else besides pooping outside when the ground is wet. but i am starting to learn his signals and we are getting a system down, i think. so far so good. no poop in the house since saturday.

friday, corn dog's physical therapist gave us a new exercise: walking on uneven ground. since it was so wet outside, i built an obstacle course in the living room which consists of towels, pillows and a thin camping mattress. these things are all soft and force him to use his gimp leg for balance. we practice short fetching.... just a few feet of walking across the obstacle course. he LOVES it.

today, when i picked him up from physical therapy, he was actually using both legs a little bit. some weight actually shifted all the way to his gimp leg. he was definitely stepping from one side to the other rather than just hopping. i was amazed.

corn dog totally loves his crate. he sits in there even when i don't put him in there. he has an afghan, an old t-shirt and a towel in there and his pig toy.

things are improving!!!! i ran into one of the other doctors at the rehab clinic today. he said that the next 10 days are critical for corn dog. so we'll have to keep up the exercises. today, he is so tired. he slept in the car the whole way home from raleigh. we'll start up the exercise regimen again tomorrow morning.

oh, i almost forgot: he got his sutures out today!!!! he has been free of his big e-collar since saturday, too! woo hoo!
An update from Charlotte:
Thursday, August 12, 2pm

Saturday night and Sunday were rough. Corn Dog pooped and peed in his crate and cried loudly whenever I left the room. I felt completely overwhelmed. Sunday evening, I was saved by my houseguests Lee and Ewald (see second photo below). They had the clever idea of moving the crate from the back bedroom to the kitchen where all the action was. They helped out by entertaining Corn Dog, cooking me dinner (!!) and easing my anxiety about this whole dog experience.

Corn Dog has been pretty good with his recovery exercises: massage, passive motions, weight-shifting and ice packs three times a day. We've been to the physical therapist twice now (see last 2 photos below), where they are impressed with his progress. He still hops and usually does not use his "gimp" leg, but it is now touching the floor some. Yesterday, the physical therapist gave us a new exercise of walking on rough terrain to force him to use that back leg. (Rough terrain is tall grass for little Corn Dog.)

Corn Dog and Pam (my cat) get along just fine. Corn Dog has his agenda: be beside me at every moment. Pam has her agenda: getting fed. So they pretty much leave each other alone. Pam has hissed a couple of times at Corn Dog, but I think it was because he was all up in her face for too long.

Corn Dog has become very protective of me. Anytime someone comes into the house, he barks loudly until he gets to know the person. But he has grown to like everyone who has come in the door. He hasn't bitten anyone or acted aggressively.

They removed his Fetenol patch yesterday at the rehab center. They've put him on an oral pain pill in its place. He'll finish up the antibiotics on Saturday. He is still on an anti-inflammatory medicine which will continue through next week.

One thing I am still struggling with is figuring out when he needs to go outside to poop. He has pooped inside a few times... twice due to crate anxiety (or so it seems). But twice now, he has pooped inside, while I was in the shower. Any advice on this would be appreciated. He seems to understand the concept of peeing outside.

Oh, and how do you get a dog to pee outside in a hurricane?
Getting acclimated:
Sunday, August 8, 11pm

It's been a tough 24 hours. Getting Corny housebroken has been a challenge. Though he understands that pooping outside is good, sometimes he can't wait. He's actually made several very large messes inside. He is still trying to come to an agreement with us about what his schedule should be.

But despite all that, he's doing amazingly well. Though he initally barks (loudly) when new people enter the room, he quickly falls in love with everyone. Especially Charlotte. He HOWLS whenever she leaves the room. He just likes to sit near her... and when he gets comfortable he lets out this little contented groan that is the most precious thing you've ever heard.

He's eating well... though he gulps down his food in 3 seconds. (That's not an exaggeration.) He seems happy with the quantity he's given.

Charlotte has been doing his exercises... she massages the area near his incision, then does a few minutes of 'passive range of motion' excercises (which entails moving his lame leg around so that the muscle stays limber), then he does some 'weight shifting' (teaching him that his lame leg is still useful by gently forcing him to recognize it's still there by putting weight on it), and finally a session with an ice pack.

Basically, Charlotte's every spare moment is occupied with Cornwallis. She's overwhelmed, but so happy to see that he's making good progress.

Here are a couple photos taken while he was in the playpen that one kind donor mailed to us:

And here's a totally hilarious video (1.5 MB QuickTime) of the Corn Dog playing fetch. He is very energetic!
Rehabilitation begins:
Saturday, August 7, 4pm

At 2pm we visited the Animal Rehabilitation and Wellness Hospital. Dr. Denis Marcellin-Little spent over an hour with us, assessing Cornwallis' condition and helping us understand the exercises and home therapy he'll need. The Corn Dog will need *lots* of intensive, hands-on rehabilitation (at least an hour a day, and possibly more) and he has an appointment to go back to the clinic on Monday for a session with the on-site physical therapist.

Dr. Marcellin-Little was impressed with Cornwallis' patience for the exercises, and feels like he has an excellent shot at a full recovery!
He's home!
Saturday, August 7, 11am

Cornwallis has left the hospital and is now home with Charlotte. Right now he's napping. He gets really excited when the cat is around, so we've got the bedroom door shut to keep her out.

Photos of our final visit to the hospital (though he'll have a checkup in 4 weeks) and Callie, the med student who took such good care of him:

Here are a few photos of his homecoming:

And here are two QuickTime movies of his first trip outside: [1 (6.3 MB)] [2 (3 MB)]
Charlotte's third visit
Friday, August 6, 4pm

"He's a differerent dog," she says. "He's wagging his tail and giving me kisses."

He's definitely feeling better and will be discharged tomorrow morning at 8am.
YAY!
Friday, August 6, 10am

GOOD NEWS!

Cornwallis made a big turnaround last night. His vet called this morning and said Corn Dog barked at her when she came to check on him... he hasn't done that before. He's very perky, and much more interactive. He's doing a lot better!

His liver enzymes are coming down, too, and overall it seems that he's got a bit more zip in his step.

In fact, they think they can probably discharge him tomorrow (Saturday)!!

Charlotte is going to go visit him again today at 2pm, and hopefully get confirmation of that.

Exciting!!
Charlotte visits Cornwallis again:
Thursday, August 5, 5:30pm

Charlotte just visited the Corn Dog again.

He's still shaking a lot, she says, but he's moving around quite a bit, which is good. He looks perky & Charlotte said he would stand up for her every time she took a picture.

There are still two concerns, however:

1) he's still not eating very much (though apparently the little bit he has eaten today he hasn't thrown up).

2) although the ALT liver enzyme went down, other liver enzymes went up... which is a little worrisome. Tonight his vets are going to discuss what to do next.

So Cornwallis won't be discharged Friday... maybe Saturday, but more likely Sunday or Monday now.

Here's a photo from her visit today:

Another financial update:
Thursday, August 5, noon

Now that she's beginning to move out of crisis-mode, Charlotte is finding a little time to sit down and tally all of your pledges, cash, checks and PayPal donations.

It looks like you have contributed & pledged a total of $3400 to Cornwallis' care. That's such a staggering number, it brings tears to my eyes. Bless you all for your help.

I think at this time we can safely stop asking for contributions. Of course if you feel compelled to donate we will certainly accept your help... as we've mentioned previously, Cornwallis will need weeks and months of rehabilitation as he recovers from his surgery... but we can't in good conscience ask for any more money.

Thank you again (and again and again). We will, of course, continue to post updates on his condition...
Update from Charlotte:
Thursday, August 5, 10am

CORNWALLIS ATE LAST NIGHT!!!!!!!!!!!!!!!!!!!!!

They tried all sorts of food and he decided that he liked the chicken. So he ate a little bit of chicken last night.

But he threw up this morning.

So, in addition to the antibiotics and the pain killers, they have put him on some anti-vomiting meds, too.

They are going to re-run some blood work today.

They said I could come visit him for a little while this afternoon probably after 3pm.

The folks at the vet school LOVE the website!!!!
Photos from the visit:
Wednesday, August 4, 11pm
The visit:
Wednesday, August 4, 3:30pm

Charlotte just called from the vet school.

She took photos of Cornwallis while she was there but she wants to warn you right now that they're not pretty. You'll see that for yourself when we post them tonight.... he's skinny, shaved, and is wearing one of those Elizabethan collars.

The collar, interestingly enough, is not to keep him from picking at his stitches, but rather to keep him from (ahem) licking himself. When he got shaved for surgery the vets found that his butt & scrotum were really bruised and scraped (from the impact, apparently) and now he can't keep his mouth off of them. In doing so, he's licking off antibiotic used to treat that area. Hence, the collar.

The good news is that the little Corn Dog is relatively active. He's walking around a little (he's still heavily sedated and stumbly, though) and the vet says he's much brighter today.

What worries the vet is that Cornwallis is not eating. At all. They sound a little desperate to get some food into his system. I'm hoping that as he adjusts to his situation his appetite will return, but who knows. This is the most worrisome thing right now.

The vet also wants to re-run some blood tests tomorrow to see if Corny's liver enzymes have gone down. If not, there may be some internal injury we will have to deal with.

But everyone at the vet school loves this dog. The surgeon thought he looked like a "Jimmy", so that's what he's calling him. The techs all call him "Corn Dog", though. It sounds like he's the most popular pup around.

It looks like Cornwallis will likely be discharged Friday or Saturday... this is assuming the liver levels have returned to normal and no further procedure is needed.

As for the money, it looks like the vet school will be a guaranteed expense of $2200. (Once again assuming his liver won't need any further examination.) He will also need post-operative care... he's in for a lot of rehabilitation. We are still accepting contributions... the PayPal button is below... but it seems that it will be weeks before we know what his total treatment will cost.

Again, thank you for your compassion, for your well-wishes and for your donations. Each one of you have given us something magical.
Visit scheduled today:
Wednesday, August 4, 11:30am

Charlotte will be visiting Cornwallis today at 2:30. He is apparently doing well in his recovery. We'll be posting photos from her visit late tonight.
Another financial update:
Tuesday, August 3, 10:30pm

$2800 raised!!

It appears as if the bills are proabably covered for now (thank you, thank you!!) but we're not yet sure what the final vet bill will be. While there is a possibility we have enough donations, there is also a possibility the surgery and his hospital bill will be more than the estimated costs below. Hopefully we'll have a better feel for that tomorrow when we go visit Cornwallis in the hospital.

We are also currently unsure what his rehabilitation will require. There will likely be more bills to pay.

So if you would like to continue to contribute you are welcome to do so... we thank you for your generosity. In the off-chance that there is money left over we will donate it to Independent Animal Rescue.

Once again, THANK YOU from the bottom of our hearts!
Corn Dog is just now coming out of surgery:
Tuesday, August 3, 4pm

Just spoke with Dr. Ritchie (sp?) at the vet school. He says Cornwallis is just now coming out of surgery.

The surgeons decided that it was unlikely that the femoral fractures would benefit from the most expensive surgical treatment (which would have involved repairing the femur), so they opted to remove the top of the femur entirely. This isn't as terrible as it sounds... it is a procedure that is done all the time, and in small dogs like Corny it has a very high success rate.

The cool thing is that a pseudo-joint will eventually form from the gluteal muscles around that socket. He'll grow a whole new femur top. Neat.

It will be a while before all his pelvis fragments repair themselves, but he is eventually expected to make a full recovery. He will need special exercises and physical therapy after he's discharged (in about 2 days).

The doctor says Cornwallis is going to be pretty well out of it tonight and suggested we wait until tomorrow to come visit, so we won't have any more photos until then.

Tomorrow we'll also have a better idea of what the total cost of the procedure is. We'll still try to post an updated donation total this evening, though.
A letter from Charlotte:
Tuesday, August 3, 1pm

Hey Everybody,

I just wanted to send out a quick thank you to everyone who has given me (and Cornwallis) so much help. I really appreciate all the donations and the advice. I must say that it is overwhelming. I had no idea that so many people would be so generous. So far, I have received 80 donations and/or pledges! I am deeply touched by all this. I don't know what else to say but "WOW!"

I wanted to ask all of you who have sent money to please send me your mailing address. I want to send out thank you notes in the next month or two, after things settle down. And of course I will send pictures, too.

I have gotten an incredible number of emails from everyone and I am so grateful. I wish I had time to respond to them all, but as you might expect, my life is nuts. I am really backed up at all my jobs, so I am trying to get caught up before Cornwallis comes home from the hospital!

I really really want to thank Christa for putting up this site. She rocks. She has been so helpful by putting up the webpage and updates. She even helped Sunday by going door to door throughout the neighborhood of the accident with me showing polaroids of Cornwallis in hopes of finding his owner. She rocks. (Oh wait, I already said that.)

Once I hear back from the vet school this afternoon, we'll put up another update regarding the results of the surgery.

Tonight after I get home from work, which will be very late, I will send Christa the latest financial numbers to put up either tonight or tomorrow morning. By that time, I will know better what money I have received and a closer estimate to the actual surgery bill.... I think.

Thanks again for all your help. I am so extremely grateful.

Love,
Charlotte and Cornwallis

Contact info:

Charlotte Walton
charorocks@yahoo.com
Surgery scheduled for today:
Tuesday, August 3, 10am

Cornwallis has his sugery at 11am. They will go in with the intention of repairing the acetubular fracture, but will use their best judgement as to whether or not they should repair the fracture or just remove the top of the femur. (This is where the difference in cost arises.)

The vet school will call when he gets out of anethesia... we'll have another update then.
Financial Update:
Monday, August 2, 9pm

This whole experience has been incredibly affirming of the goodness in people. As of 9pm tonight you have raised $2000 for Corn Dog's care!

The little guy still needs help, though. Here is a breakdown of the expenses so far:

| | |
| --- | --- |
| Emergency vet: | $384 |
| Timberlyne Animal Hospital: | $316 |
| Downpayment for surgery at vet school: | $1500 |
| Total Expenses: | $2200 |
| Your contributions: | $2000 |
| Balance: | $200 |

There's more:
The surgeon at the vet school has told us that -at minimum- the procedure will cost $1800 (of which Charlotte has already paid $1500). They won't know just how much work has to be done, though, until they get in there and see his pelvis first-hand. Worst case scenario the procedure costs $2500 (of which Charlotte has already paid $1500).

So Cornwallis could still use your help... In addition to the $200 balance (above), this procedure will cost another $300-$1000.

We still need to raise $500 - $1200... Thank you for your help!

I might add that these figures only encompass what will be required to get him through this emergency procedure. He still needs neutering, a teeth cleaning, and possibly shots. Whatever you can contribute will be incredibly helpful.

Also, Charlotte plans on visiting Cornwallis after his surgery tomorrow and will take more photos, if possible. So be sure to come back and see how we're doing!
Update:
Monday, August 2, 3:30pm

Charlotte just called from the vet's office.

The dog's "ALT liver enzyme" is elevated... this may be related to impact. They're going to watch these levels for another day or so to make sure he doesn't have any other liver problems. If it's impact-related, the levels will go down by themselves.


Cornwallis has bruising on the lungs. This will get better naturally, too.


His pelvis has an acetabular fracture, and the head of the femur is fractured as well. These injuries require surgery and not simply cage refinement.


Charo & the Corn Dog are heading over to the vet school right now. There he will be able to remain in ICU until his surgery tomorrow.

Thank you so much for your donations! Your generosity is incredible... we're a little more than halfway there!
Cornwallis was hit by a car this weekend, and he needs your help.
Monday, August 2, 11am

Here is Charlotte's plea:

I need your help! Please, please, please read to the bottom of this message and do you what you can. I'm desperate, and need your support.

Saturday night I was driving through the intersection of Cornwallis & Academy when I saw a small black dog in the street. I stopped the car and tried to lure the dog off the road, but instead he darted away from me into traffic and was hit by a car... right in front of me.

I took the dog (a small, adorable dachshund) to the emergency vet down the street where he was quickly diagnosed with two fractured ribs (which will likely heal on their own) and a fractured pelvis. Thankfully, there were no internal injuries. But this dog is in pain and very, very scared. He shakes constantly.

This traumatic experience has affected me very deeply. I cannot abandon this dog. Even though he was wearing a collar (no tags), and even though I have posted flyers about him in the neighborhood, I have not heard from his owners. I have cried alot this weekend... my heart breaks when I think of that little dog trying to run from the scene of accident... but he couldn't, because of his injuries.

I just got a call from my vet where he is currently. His blood work is fine, but I am going to have to act quickly regarding his fractured hip.

Here is where I need to ask for your help. It's likely that this dog's vet bill is going to top $2000. (He will require surgery at the vet school on his pelvis.) He needs help. Right now I am the only one who can... but I need help, too.

I wonder if you could spare a few dollars to help me offset these bills. $10 would help... $50 would be great... whatever you can part with. I've attached a photo (I call him Cornwallis), in the hope that seeing his face will make this situation a little more real. I feel strange asking you for money... but I wouldn't do it if I didn't absolutely need help.

If you are inclined to do so, you can send me a check, or you can use paypal (use charorocks@yahoo.com for my paypal address, or click the button below).

Thank you!!

Charlotte Walton


Please forward this to your animal-loving friends!
Site maintained by Christa Wessel
View more pictures of Cornwallis


Frequently Asked Questions:
Did the car that hit the dog ever stop?
Academy Drive is a very wooded dark street. The intersection of Cornwallis and Academy is dimly lit at best. Since Corn Dog is so small and so black, he truly blended in with the asphalt. Charlotte could barely see him when her car almost hit him.
"I am certain that the driver who hit him did not see little Cornwallis The Dog in the road. I am sure that it was an honest mistake. Luckily another driver in the same lane stopped his car, put his hazard lights on and got out of his car to halt traffic until we could safely get Cornwallis in my car and off to the emergency clinic."

Have you tried to find his owners?
Yes. We've gone door-to-door in the neighborhood where he was hit. We've posted flyers in the neighborhood as well. We've contacted the Durham animal shelter. And all the vets Cornwallis has seen are aware of his status and have our contact information should anyone come forward to claim him.

How old is Cornwallis?
We think the Corn Dog is about 4 years old.

His eyes look funny in some of the photos...
Cornwallis has one blue and and one brown eye. I guess they photograph strangely.

Where will Cornwallis live after the surgery?
Charlotte plans on bringing him back to her house after the surgery, but she has also heard from a number of empathetic dachshund lovers who might be interested in having Cornwallis come live with them. At this point we're not sure what will happen, but we know he'll end up in a good home.