weekend yardwork
ray worked with the electric chainsaw and trimmed back the remaining overgrown shrubs along the back of the house: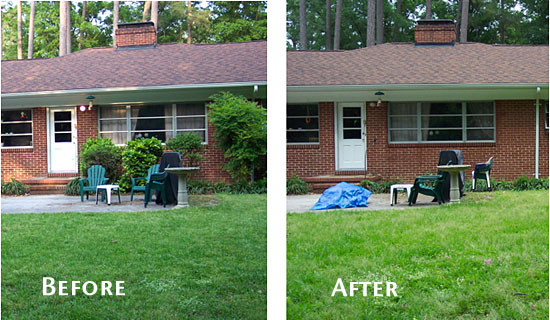 and this morning my neck felt good enough to keep plugging away at the back patio. i whacked away more of the embedded dirt and weeds, uncovering more flagstone and brick. (the brick apparently goes all the way around the perimeter of the stone.) i also set up the $99 (!) patio set which practically killed my car... i totally want to have breakfast here every morning:

progress feels good. sore muscles do not.
by the way, there are two yucca plants in that photo which are going to be blooming any day now (the "pods" of one of them sort of arc over the lamp-post in the picture). a neighbor stopped by today and told me that when they do bloom, we can actually eat the white leaves... she suggested "in a salad". is this a good idea?