double the fun
there are two traffic circles in the area. the one in my neighborhood, which has enjoyed countless decorative displays over the years, and a relatively new one in the neighborhood just to the south. they are rarely decorated at the same time, so what's going on right now seems special.
this is what's happening in my traffic circle right now: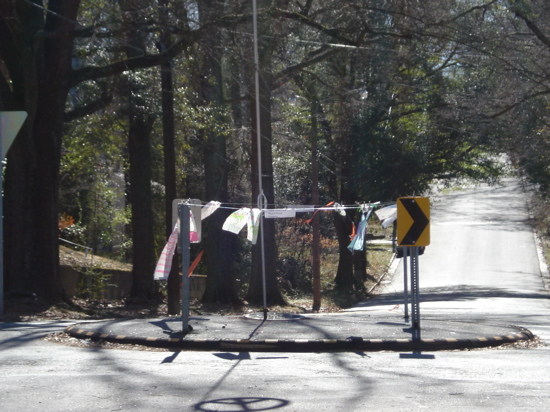 from a distance this hardly seems like anything at all. the pole from the new year's celebration is still in the middle, but this new thing has been strung around it.
i had to get really close to see that it's some sort of global warming message. those are flimsy swimsuits strung on the line with the signs.
then there's the traffic circle in the adjacent neighborhood, which has gone totally abstract:
here's a closeup shot. i have no idea what it means. it's nutso, but that's perfectly ok. at least it slows people down as they approach the intersection.
Posted by xta at February 7, 2007 9:57 PM | TrackBack