unchain my heart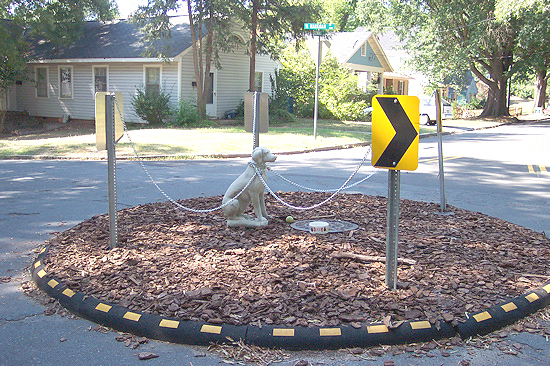 apparently while i was in NYC my neighborhood was busy (busy busy) coming to the aid of chained dogs. the current traffic circle display is not only beautiful, but it's also a political statement.
a group calling themselves the coalition to unchain dogs has organized local meetings to convince the county commission to pass a proposal outlawing dogs-in-chains.
in fact, my neighbors are now so riled up about this that they are contacting animal control each time they see a chained dog, and at the end of each day post to the neighborhood listserv just how many dogs they've helped free. tonight that post simply said "19 down, 31 to go."
here's a close up of the traffic circle, and one particularly touching photo taken by a neighbor of the dog in the rain. notice how far away the water bowl is from him.
AUGUST 31 CORRECTION:
I received an email from the neighborhood resident -- a very compassionate soul -- who is coordinating a local effort to get the resolution passed. He says:
The update isn't about the number of dogs released--wish that it were--but is about the number of people who have contacted the county commissioners telling them to support the proposal from the INC and PAC 2 to outlaw keeping dogs on chains. I sent a message to the listserv saying that [I am] very close to the artist and if 50 people would send messages to the commissioners we would try to persuade the artist to unchain Fido. I'm sending an update soon: we have 28 messages sent and 22 to go.
Posted by xta at August 30, 2006 10:55 PM | TrackBack