music from the inside out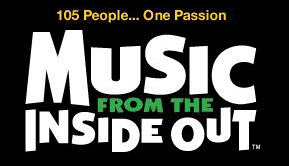 i'm so excited about this new documentary i don't even know where to begin.
starting with the details is always good, i suppose:
* * *
"Music From The Inside Out"
Galaxy Cinema in Cary
Starts June 24 (today!) and will run for at least a week
"Music from the Inside Out" features members of the Philadelphia Orchestra sharing their very personal stories of the interconnection between their music and their lives outside the concert hall. "Music from the Inside Out" explores the mystery and magic of the musical experience; the main character in this film is music itself.
The critically-acclaimed film is still playing in Philadelphia after more than two months... this run at the Galaxy Cinema in Cary is the first time "Music from the Inside Out" has been shown outside of Pennsylvania.
* * *
so, the basic stuff sounds interesting enough. i'm a big fan of music, and certainly classical music. so when i learned about the film i knew it was something i'd like to see. i went searching for more information and i found a few reviews online. before i'd finished the first one my jaw hit the floor:
oh my god... they're mentioning my friend, adam, in this review...
one of my best friends from college is in this movie!!
if my life were a cartoon, you would have heard that squeaky wubba-wubba-wubba sound as i rubbed my eyes in disbelief.
now, i have to tell you, my college experience was largely forgettable, and even downright stinky at times... but to this day when i think of adam i get the giggles. he was silly and fun, and one of the few bright spots in my whole college career. we lived in the same house for a while; he dated my best friend. we goofed around and tried not to take music school too seriously. he was my rock. i leaned on him. a lot. i don't think i could have gotten through college without adam. it's been almost 15 years since we graduated, though, and we've sadly fallen out of touch with each other.
i didn't even know he played in the philadelphia orchestra... one of the most prestigous ensembles in classical music. i sat there in stunned silence for a few minutes digesting it all: adam.... playing in philadelphia.... has a big role in a movie...

**grins**
that's him, over on the right... my friend, adam! the image is yoinked from the trailer [watch it (16MB .mov)]... adam is actually the very first thing you see in the preview, and the he appears 3 or 4 more times in it. let me tell you, i totally flipped out when i saw him on my computer screen. i am going to completely wet myself when he's 10 feet tall on a movie screen.
that first review (which i finally got through, after i finished slobbering on myself) indicated that adam was chosen as one of the featured musicians in the film because of his other, non-orchestral passions. he's a marathon runner. his dream is to make a living as a jazz french horn player (something that's, uh, not really in high demand). his first jazz CD, as a matter of fact, is coming out soon.
this is all so much to digest.
anwyway... flabbergasted, i did more googling to see if i could figure out how to get in contact with him. thank goodness he wasn't too hard to find. within a few hours of discovering that he was in this movie, i had a reply from him in my inbox. emails flew between us for a couple of days.
and as i chattered excitedly to a co-worker about the coincidence of all of this, she suggested that maybe i could interview adam about the film and we could put it on-air as part of our promotion of the movie.
get paid to talk to my old college buddy on the phone? hell, yeah.
so this morning we talked. and talked and talked and talked. we caught up, and gossiped and laughed, we reminisched. and then we recorded a small segment, trying to sound professional, to air on sunday night. it was wonderful.
i cannot tell you how cloud nine these past few days have been. i cannot wait to see this movie, and see how professional musicians supplement their day jobs with other activities that enhance their creativity. i cannot wait to see adam.
i hope you will see the movie, too. it's about more than classical music... it's about life and art and creativity. and it features all kinds of music: classical, jazz, bluegrass, latin...
i'm planning on seeing "music from the inside out" tuesday night, if you'd like to join me.
Posted by xta at June 24, 2005 11:24 AM | TrackBack