getting to colorado
here are two new things about flying:
1) on american airlines (and maybe others, too) you no longer have to show your ID as you board. yes, you still have to show your ID to the ticket agent and to the pre-security TSA agent, but no longer to the AA gate attendant.
they make a big announcement about it too: "please have your boarding pass ready. you don't need to show your ID anymore when boarding the aircraft!"
i'm left wondering if the airlines are finally winning back just a little control over their passengers, or whether the TSA has just told them that this is no longer a necessary inconvenience for us (since they've already invaded our privacy a half-dozen times since setting foot in the terminal anyway).
2) when the plane lands you are now instructed by flight attendants that you may use your cell phone while taxiing to the gate. it used to be a big no-no to use one while you were inside the craft, but no longer. as soon as the wheels touch the ground it's apparently ok.
this is the dumbest thing i did while travelling:
after snacking on pretzels and soda on the plane, i decided at DFW during my layover to buy a soft pretzel and soda. how stupid was that?? in fact, why do they even put pretzel stands in airports? i feel like an idiot.
this is the cutest thing i've seen all day: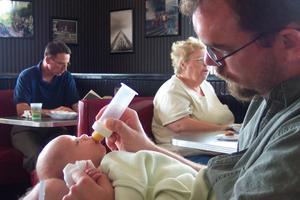 Posted by xta at July 13, 2004 7:16 PM | TrackBack